Aircraft design and equipment educational and research laboratory of the aircraft design department includes, in addition to the educational facilities, two divisions:
– Fatigue and fracture of aircraft structure laboratory;
– Nanotechnology testing laboratory.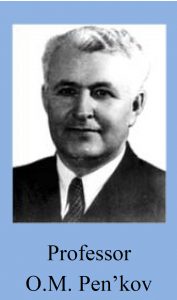 FATIGUE AND FRACTURE OF AIRCRAFT STRUCTURE LABORATORY
 In 1957 was founded by a corresponding member of the USSR Academy of Sciences, Doctor of Technical Sciences, Professor Olexander M. Pen'kov a research laboratory for aircraft structure operational reliability and durability.
The laboratory was engaged in studying the problem of fatigue and conducted large-scale flight and bench tests of planes and their units in close contact with the Central Aerohydrodynamic Institute, the Siberian Aviation Research Institute, O.K. Research and Development Bureau. Antonova and AM Tupolev, State Research Institute of Civil Aviation (State Scientific Research Institute). Leading Specialists – Ph.D. O. Radchenko and Ph.D. Yu. Urbansky.
In 1983 the laboratory was relocated to the educational building No. 11, where studies continued in this direction.

Since 2000 the fatigue and fracture of aircraft structure laboratory is headed by the doctor of technical sciences, professor Sergiy R. Ignatovich.
Areas of scientific research of the laboratory:
– Theoretical bases, methodical support and new equipment for determination the strength of aviation structures using MEMS / NEMS technologies.
– new methods for determining the residual life of aviation structures.
The leading specialist of the laboratory is Doctor of Technical Sciences, Professor Mikhail V. Karuskevich.
The laboratory carried out fundamental and applied research aimed at ensuring the aircraft operational reliability and durability; fatigue testing of aviation structure elements and aviation structural materials specimens at the request of scientific and design organizations, industrial enterprises. Standard and original testing equipment allows to carried out testing in a wide range of loading conditions.

NANOTECHNOLOGY TESTING LABORATORY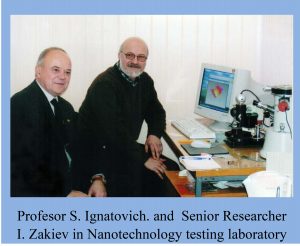 In 2006, the doctor of technical sciences, professor Sergiy R. Ignatovich was founded laboratory of nanotechnology.
The main task of the laboratory is related to the development of methodical bases and hardware support for the study of the surface layers features of materials and structures in the nanometer scale.
In addition, the methodology of the diagnostics of structural strength is developed on the basis of the physical and mechanical characteristics study of the materials surface layers (microhardness, micro deformation, micro creep, topography).
Areas of scientific research of the laboratory:
– surface studies by processing the interference data sequence in partly coherent lighting;
– study of microhardness, studying the peculiarities of microdeforming of materials on the kinetics of indentation depression,
– microporosity of materials registration, measurement of parameters of elasticity of materials.
The leading specialists are Senior Researcher, Ph.D. I.M. Zakiev and Ph.D. V.I. Zakiev

The Laboratory for Nanotechnology promotes the improvement of the educational process at the university through the wide involvement of the teaching staff and students in the implementation of research work, the use of the results of completed studies in the educational process.
The development of the laboratory is involved in the work of exhibitions of scientific achievements, which are of great interest among researchers of various scientific fields.

List of the subjects that are taught in the laboratories:
Aircraft Design and Strength;
Dynamics and Lifetime of Aviation Structures;
Fundamentals of the Aircraft Structures Fatigue and Fracture
Basics of the Scientific Research;
Health Monitoring for Aircraft Structures
Monitoring of the Aircraft Residual Life